Pet Therapy and Seniors
Emerald Crest by Augustana Care often has visitors stop by to spend time with our residents. We make sure to have a wide variety of activities and entertainment to allow our residents the opportunity to experience different things. It's always a big hit when therapy animals are in the house and six-year old Border Collie, Shadow, and his owner and trainer Cheral Tsuchiya are favorites around here. 
Janet Hovde, Occupational Therapist at Emerald Crest Minnetonka, says "Cheral is wonderful with the residents. Shadow is a very calm Border Collie who is also great with the residents. We always have an ECM staff person or ECM volunteer who assists Cheral with resident interaction in all of the houses. We have had one fairly unresponsive resident with late stage dementia light up, visually focus on and visually track a visiting therapy dog."
We recently asked Shadow and Cheral to share what it's like to be a therapy animal volunteer and their experience with visiting our Minnetonka location each month. Here is their story from Shadow's perspective: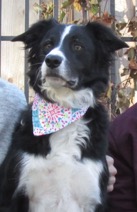 My name is Shadow. I'm a 6-year old Border Collie and I have a job. You see, I'm a registered Therapy Animal and I have the privilege of visiting people who might need a little cheering up. Let me tell you my story.
I came to live with my family when I was about a year old. My new mom had never heard of therapy animals before, but when she brought me to visit her mother in an assisted living residence we both realized that I loved to meet new people. There were all these kind folks around and they all wanted to see me and pet me. I was in dog heaven! It was suggested that maybe I would make a good therapy dog. Mom did a little research and found that a therapy animal is trained to partner with its human handler to volunteer at a variety of facilities and events bringing joy, comfort and companionship to those they meet.  
To become a therapy animal team Mom had to complete a class online through Pet Partners. That's the name of the national organization through which we have our registration. Then it was time for me to start going to school. We took several obedience classes and eventually I earned my Canine Good Citizen certificate. After we completed a therapy dog training class together, we had to pass the team evaluation. We were both really nervous as we went through the testing process, but we passed with flying colors. Becoming a registered therapy animal required practice, patience and perseverance. I'm so glad my mom and I stuck with it.
We belong to a club called North Star Therapy Animals in the Twin Cities. We are a group of dedicated volunteers who are passionate about therapy animal services and the benefits they bring to individuals in our community. If you or anybody you know could benefit from a therapy animal visit please check out their website. And, we are always on the lookout for animals (dogs, cats, guinea pigs, llamas, mini horses or birds) that would enjoy meeting new people. 
Today I visit many assisted living and memory care communities in the Minneapolis and St. Paul metro area of Minnesota. I also get to visit local high schools, colleges and corporations to help relieve stress. I'm out visiting 3 – 4 times every week. I love the work I do, in fact I think I have the best job in the world! You can follow me on Facebook to see what I'm up to. My page is called The Shadow Knows. 
With four locations in Burnsville, Minnetonka, Victoria, and Shakopee, Minnesota, Emerald Crest by Augustana Care senior care communities are truly inspired by our residents and families. With a deep knowledge of memory care, we offer a specialized assisted living setting for seniors with Alzheimer's and other dementia-related conditions. This experience allows us to create opportunities and personalized care for your loved one that goes beyond conventional senior memory care. Contact us today if you have questions or would like to schedule a tour.