The Emerald Crest Model
The Emerald Crest model of senior care is rooted in the belief that individuals with cognitive issues are unique and can flourish in an environment that provides them with the best opportunities for positive relationships, participation in daily care and meaningful activities that promote success and self-worth.
At Emerald Crest, we find the best way to assist each individual resident in living with his or her condition.
We believe success depends on staff training. Staff has been hired and trained by Emerald Crest to maintain the high standard of care we've become known to provide. All employees go through a comprehensive training program with qualified professional staff. Those with direct patient care duties must undergo even further training. Staff also receives on-going education every year.
While our training programs and hiring screenings are highly regarded, there is one thing we can't teach—the personal compassion and dedication we look for in our staff. That's part of who they are and what they bring to work every day.
There are several ways the Emerald Crest model allows us to excel:
We focus on ability rather than disability. Our communities are built around the idea of helping residents do all they can, no matter where they are in life.
Caregivers partner with residents, encouraging them to use the skills and abilities they have and allowing the caregiver to help when assistance is needed. This allows residents to stay active within the natural flow of life's daily activities as much as possible.
You'll like our home-like environments. The first time you visit an Emerald Crest community, the first thing you'll notice is that it actually looks and feels like a home.

You'll feel it yourself the moment you enter the neighborhood or walk past the flower gardens and patios and arrive at the front door. Residents have their own private suite filled with their own belongings. There's a common living room area and an inviting kitchen, alive with the aroma of fresh-cooked meals. As in any home, you are free to visit any time you wish.

Residents' safety and comfort is foremost in our minds, so all homes have single-level barrier-free floor plans with security doors, staffed by trained caregivers 24 hours a day. The homes contain only 12 to15 suites to allow for a higher level of personalized care than you'll find in large institutional settings.
A personalized care plan is essential. Everyone has different needs, abilities, likes and dislikes. We all have varying social, recreational, spiritual and wellness needs. These are all taken into account when we sit down with you to create an individual's care plan. It's a plan that will evolve and change over time depending on the level and type of care needed.
A Note from Theresa Klein, Creator of the Emerald Crest Program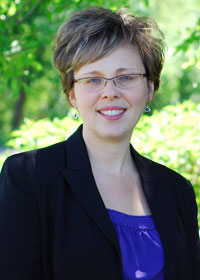 My name is Theresa Klein, and I created the memory care program used at Augustana Emerald Crest. I wanted to thank you for considering Emerald Crest as you search for memory care. We're honored you visited our website and want to be a resource for you and your family, regardless of the community you choose.
From my own personal experience, I know this can be challenging time. I came to Emerald Crest because its philosophy spoke deeply to my experience. When I was in high school, my grandfather began showing signs of Alzheimer's and came to live with my family. There was little understanding at the time of how to deal with the disease and it felt very isolating for him and our family. I committed myself to improving care for those with dementia. I envisioned a program that allowed individuals to celebrate their abilities rather than focusing on their deficits.
When building Emerald Crest, we sought advice from prestigious experts in dementia care. They recommended simple floor plans and serene décor to create a warm, welcoming environment. Lighting, rooms, kitchen, grounds and gardens were thoughtfully placed and designed to create a home where life's rhythms and routines bring us together.
Great attention and detail was also given to developing Emerald Crest's unique model of care. I helped create this model to meet the physical and cognitive needs of our residents. We understand that people with dementia develop gaps in their abilities. Our program identifies gaps and trains family and caregivers to partner with residents to maximize their abilities and enjoy their successes.
Thanks again for your interest in Emerald Crest by Augustana Care. Should you have more questions, please contact Director of Admissions Christine Drasher at cdrasher@augustanacare.org or 952-908-2215 when the time is right for you.

Cordially,

Theresa Klein, OTR/L
Cognitive Clinical Specialist
Creator, Emerald Crest Program