Is Being Home for the Holidays Not as Nostalgic as You Remember?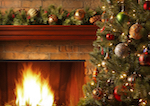 As the holidays approach, we find ourselves looking forward to celebrating with those we love. For many, the holidays are a time to visit and reconnect with family we may not see throughout the year. Going "home for the holidays" is an event that is anticipated all year long, but for many adult children returning home, the experience may not be exactly what they remember.
A visit home during the holidays may yield surprises for adult children. Some discover Grandma's refrigerator is empty, except for a few items that expired long ago, and the mouthwatering smell of homemade cookies is no longer in the air. The real concern sets in when you realize how much weight Grandma has lost. Or, instead of Mom and Dad's beautifully decorated home you find it filled with clutter, piles of old newspapers and a month's worth of unopened mail.

Suddenly your holiday season takes on a whole new meaning and brings with it questions and concerns:
How did this happen?
Are they safe living on their own?
Should they continue to drive?
Is she safe using the stove?
Will he remember to bathe?
Can they maintain their house?
Will they remember to take their medications?
 As Americans age, challenges with their cognition or thinking skills begin to appear. Cognition involves a number of skills, including memory, orientation, judgment, problem recognition/solving, decision-making, attention, sequencing, and frustration tolerance. Theresa Klein, Occupational Therapist and Dementia Consultant who has worked closely with Emerald Crest by Augustana Care Assisted Living, finds that problems in these areas are not noticed by family until a crisis arises, such as a fall or hospitalization. Often times an aging relative may notice problems or changes in themselves but do not want to burden family members with their health issues. Suddenly adult children are forced to make decisions about their loved one's finances, health, safety, and appropriateness of the current living environment.
When a family is faced with these questions they often feel overwhelmed, stressed, alone, and unaware of available resources. Family members are reluctant to pry or offend their loved one by suggesting the need for professional assistance. Instead, the situation is noted and a commitment to routinely check-in and re-evaluate at a later date is made. "I see families that leave it to fate. Mother or father are left at home until something drastic happens which forces an immediate decision", observes Christine Drasher, Director of Admissions Emerald Crest by Augustana Care. Many families will make their best guess and hope the level of assistance put in place is adequate.  

"It does not have to be a guessing game. Families don't have to wait for a crisis to make a decision. There are signs and red flags that can be recognized to be able to make the right choice," states Theresa Klein.

One resource that can assist families in identifying red flags is an occupational therapist. By engaging individuals in several predetermined activities, the therapist is able to make a professional assessment of the individual's cognition, identifying the individual's current abilities as well as existing deficits. Once determined, the therapist can interpret the meaning of the results to the family and caregivers providing strategies for care, ideas how to intervene, i.e. how to compensate for the skills their loved one no longer has, and offers recommendations for appropriate level of supervision to assure safety. Klein observes that with information provided by the occupational therapists, "families often report an increased sense of confidence and feel more equipped to make informed decisions regarding the health and safety of their loved ones."

"The holidays are a huge eye opener for many adult children," comments Drasher. "Our phone is the busiest in January after adult children recognize from their visit that their loved one is declining. If families knew there was a way to predict and get accurate strategies to meet their frail loved one's needs I believe they would feel more confident in their decisions and avoid crisis."

If you are interested in learning more about Dementia Resources or Emerald Crest by Augustana Care, call Christine Drasher at 952-908-2215. Emerald Crest by Augustana Care welcomes walk-in tours Monday through Friday and offers weekend tours by appointment.