Beth and Pat's Story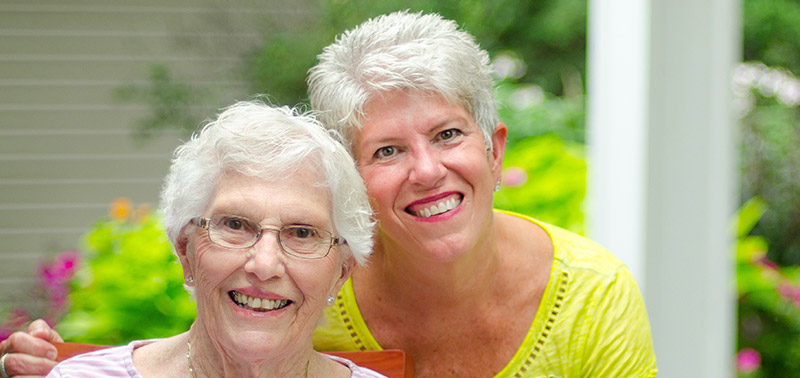 My mother moved into an assistant living apartment after my dad died because of her memory loss. She no longer found it enjoyable or even safe to cook or maintain a house and yard. She did well there and was quite active, although her need for walking assistance grew and chronic illness increased, so it was more important for her to be near family.
The only other option in the state where my mother lived was skilled nursing care—and she didn't need that. Memory care in the Emerald Crest setting where she could live in a small family environment with others at the same cognitive level was very appealing to our family.
The hardest thing for me as my mom's memory declined was being so far away. I tried to visit her once a month, but that always included a five-hour drive, staying either with her or in a hotel. I was never there when she was sick, lonely, or needed to go to a doctor. I worried about her all the time, and it was always so hard to leave her. I had to depend on family friends for information and I could tell each time that I visited that she was going to need more care than she could receive there in the near future.
Emerald Crest was recommended to us by a family friend who is a physical therapist and was very familiar with the level of care and the home like setting. We also worked with an agency that helps families connect with assisted living and memory care places in the Minneapolis area. Emerald Crest of Minnetonka is just 10 minutes from our house and offers a continuum of care so Mom will not have to move again if her cognitive level continues to decline.
It took time for Mom to adjust to moving .She was leaving the place where she had lived for 50 years, her friends, church and everything she knew and loved except for me. The staff has been wonderful about helping her to participate actively in life at her new home. They have communicated with me on a regular basis. Mom now says she doesn't miss anything and enjoys her days.
I am able to see and spend time with my mom several times a week, take her to appointments, and go on outings. I have gotten to know all the other people in her house too. A pastor comes every Thursday and conducts a church service, there is musical entertainment on Saturdays, and I am able to talk to or meet with nurses and caregivers at any time.
The staff has been very responsive to my mother's physical and emotional needs. They have also been responsive to changes that we would like to see, which helps me know that they have my mother's best interests at heart.
Another highlight is a family support group that meets once a month. The group provides a safe, supportive place to share questions, concerns and issues involving memory loss and care. You also meet others and realize that you are not alone. That is invaluable.
My mom is well cared for and safe. She is always clean, well dressed, well fed and happy to see me. The caregivers are gentle and caring and communicate any changes that they see to nurses, so I feel well informed. They helped us celebrate her 90th birthday in April and it couldn't have been more special.
I think it is important to get a feel for what is available in your community and choose the place that best fits your loved one's needs. When my husband and I visited Emerald Crest and met the staff and residents, we immediately felt at home.
Beth Lippert
(Pat's Daughter)